Dr. Damkerng Pathomvanich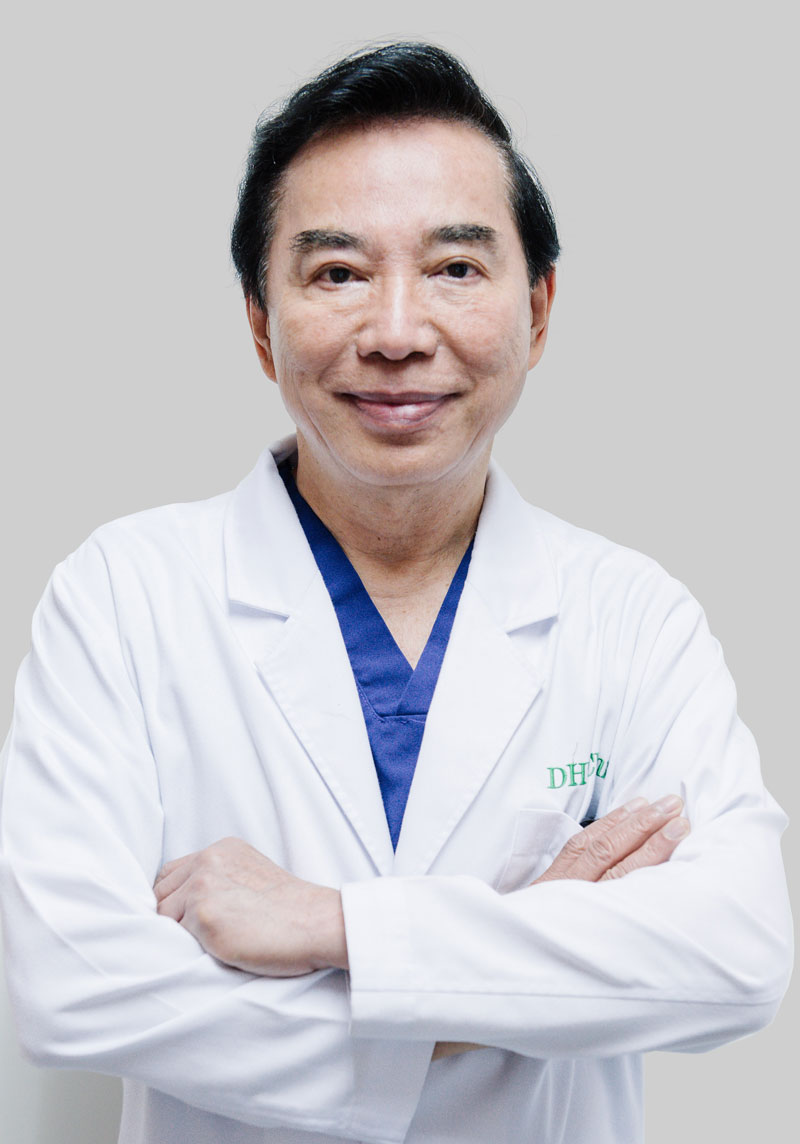 Dr. Pathomvanich has been certified and recertified by the American Board of Surgery. He is a Fellow of the American College of Surgeon. He was honored as a 'Pioneer' posted in the Hair Forum International for his work in donor harvesting to minimize follicular transection. His technique is well known as the 'Open Technique'. He is also the first pioneer that brought in state-of-the-art hair restoration surgery to Thailand. He has been on the original International Advisory Committee for the ISHRS, board of governor of ISHRS for the past three years and member of the ISHRS.Founder and past president of Asian Association of Hair Restoration Surgeons.Certification
American Board of Surgery certified and recertified since 1979
American Board of Hair Restoration Surgery since 2003-2013 "Retired"
Fellow American College of Surgeon
American Board of Cosmetic Surgery , certificate by Fellowship training
Membership ,ISHRS (FISHRS) , AAHRS
Royal College of Thai Surgeon The Society of Plastic and Reconstructive Surgeons of Thailand Curriculum Vitae of Damkerng Pathomvanich MD. Elementary school and college : St. Gabriel college, Bangkok, Thailand Medical Degree : Mahidol University in Bangkok, Thailand in Internship at St. Mary of Nazareth Hospital, Chicago, IL. Surgical residency training in Brooklyn, New York. Surgical house officer at Hillcrest Hospital Cleveland Ohio Private practice in general surgery, Kailua- Kona ,Hawaii Fellowship in cosmetic & hair restoration surgery sponsored by the American Academy of Cosmetic Surgery in at Center for Cosmetic Surgery in Little Rock, Arkansas and Stough Medical Associates in Hot Spring, ArkansasPrivate practice in Hair Restoration and Cosmetic Surgery in Bangkok, Thailand Director Fellowship Training Program in Hair Restoration Surgery (approved by ISHRS)
Eyebrow Transplantation in Asians ( 2009,35:496-504)
A random study of Asian male androgenetic alopecia in Bangkok, Thailand. (Vol 28, no.9 Sept 2002, p804-807)
A random study of Asian male androgenetic alopecia in Bangkok, Thailand. (Vol 28, no.9 Sept 2002, p804-807)
Health Magazine, Thailand
Hair transplantation and the balding men. (No.6 ,p 27-38 June, 2001)
What's new in hair transplantation. (No.7 July, 1999)
Laser in hair transplantation. (No.3 March, 1996)
A new approach for hair restoration. (No.2 February, 1992)
Hair transplantation a dream for the balding men. (No.3 March, 1991)
The Thai Journal of Surgery
Anatomical Restoration Surgery of the Eyebrow in Asian. (Vol 25, Number 2nd, 2004, p.47-52)
The Art and Science of Hair Transplant. (Vol 24, No.3, Jan, 2003 p.73-80)
THE NATION "FOCUS" Bangkok,Thailand . HAIRY TALES and other bald facts (Monday, April 7, 1997, section C page 1-2)
Thai Medical Journal (No. 34-35 February-March, 1992).
When is the Appropriate Time to do Hair Transplantation in Recalcitrant Alopecia Areata, or Never? (OMICS Hair Ther Transplant 2014, 4:2)
"Management of definitive hair alopecia in asians" in textbook of The alopecias – Diagnosis and treatments, edited by Pierre Bouhanna (To be published)
Hair Transplant 720, "Oral Minoxidil", edited by Sam Lam
Donor Harvesting: Open Technique, Hair Transplantation, 5th edition, Co-editors Shapiro R., Unger M., Unger R., 2011
Donor Harvesting "skin hook technique" Hair Transplantation, Co-editors Shapiro R., Unger M., Unger R., 2011
Hair transplantation in the Asian Women. Hair Transplantation, Co-editors Shapiro R., Unger M., Unger R., 2011
Hair Restoration Surgery in Asians, Editor in Chief, Pathomvanich, Imagawa Eds., 2010 Springer.
Hair transplantation in Asians", Hair transplantation edited by Robert S Haber and Dowling B Stough, 2006
Hair transplantation in the Asian population: Hair Replacement Surgical and Medical;Dow Stough,Robert Haber p201-205.1996
Hair transplantation in Textbook of Organ Transplantation Chulalongkorn University Medical School 50 years anniversary, Bangkok, Thailand.
Dr.Damkerng Pathomvanich, MD., FACS
After he completed his Internship in Chicago, surgical residency in New York , he passed American Board of Surgery and became Fellow of the American College of Surgeon. He moved to start his surgical practice in Kona, Hawaii for many years. He wanted to learn more about cosmetic surgery and underwent one year fellowship training program in cosmetic surgery at Centre of Cosmetic Surgery in Little Rock, Arkansas sponsored by American Academy of Cosmetic Surgery (AACS) . At this centre he was trained in liposuction, face lift, blephaloplasty and many more related to cosmetic surgery under Dr. James D Billie. He was also trained Hair Restoration Surgery at Stough Medical Associates, Hot Spring Arkansas under Drs. Bluford and Dow Stough. At Stough Medical Associates he has learnt scalp reduction, flap, round grafts, split graft, quarter graft, mini graft and single hair graft. During his one year training, he was able to see post op result who were operated many years ago and he recalled many happy patients brought in their old pictures that were bald for comparison. After his fellowship he had visited many cosmetic and hair clinics in the US and decided to relocate his practice in Thailand. He received American Board of Cosmetic Surgery Certificate.
He was the pioneer that brought hair transplantation technique where he had learnt from the US to Thailand , it was published in the ISHRS Hair Forum International. He started to teach physicians who were interested in hair restoration surgery and was appointed by ISHRS as the director of fellowship training program in hair restoration surgery since 2008. He has trained many physicians worldwide. He passed American Board of Hair Restoration Surgery in 2003.He is a member of ISHRS since 1993. During his practice he has reported his open technique for strip harvesting to minimized follicular transection and scar and was published in ISHRS Hair Forum International. He with his fellow Bertram Ng has invented the laser hairline device to make the hair line symmetric and was presented at ISHRS Annual Scientific Meeting in Amsterdam in July 2009 and was published in textbook Hair Transplantation in Asians (Springer). These led him to received Golden Follicle Award at the 18th ISHRS Annual Scientific Meeting in Boston in 2010 for the out standing achievement and remarkable contribution in the field of hair restoration surgery more than 20 years.
He was appointed Board of Governor of ISHRS for 3 years term.
He is a renown hair transplant surgeon and has authored/co-authored several textbooks in the field of hair restoration surgery eg., Practical Aspect of Hair Restoration Surgery in Asians, Hair Restoration Surgery in Asian, Alopecia, Hair transplant 360 etc and many publications in the medical journal.
He was invited to speak in hair restoration surgery meeting all over the world for the past 20 years as speakers, moderators and panellist. He was appointed the chairman of 22nd ISHRS Annual Scientific Meeting in Kuala Lumpur Malaysia in 2014.
He was the founder, member and first president of Asian Association of Hair Restoration Surgeons (AAHRS) and received Asian Follicle Award in Korea in 2013. He was the Chair of AAHRS and CAHRS Hair Meeting in Beijing and also a speaker and moderator at 26th ISHRS World Congress in Hollywood in 2018.
He attended most of the ISHRS Annual Scientific Meeting and missed only 3 out of 26 since its inception in 1993 and attended all AAHRS Annual Meeting since 2010.
Dr.Pathomvanich uses his laser hair line device to assist him to design the new hairline in each patient, to frame and balance his or her face for symmetrical . He paid particular attention to those who have extensive baldness since the donor hair is limited and the design is more difficult. He won the hair line design contest voted by the audiences at ISHRS meeting in Alaska in 2011.
For donor harvesting, he continue to refine his technique in FUT and FUE to minimize follicular damage or transection thus minimize the scar and more grafts received for the patients outcome. For placing grafts, he has developed the new device to minimize grafts injury during placing. His new dilator device that he has developed and used for the past 2 years has made it easy to place the graft. The dilated slits from dilator, made a good housing for the grafts to live and assure good grafts survival.It was presented at 26th ISHRS World Congress Meeting in Hollywood in 2018.
His hobby is swimming, biking, jogging, shopping.