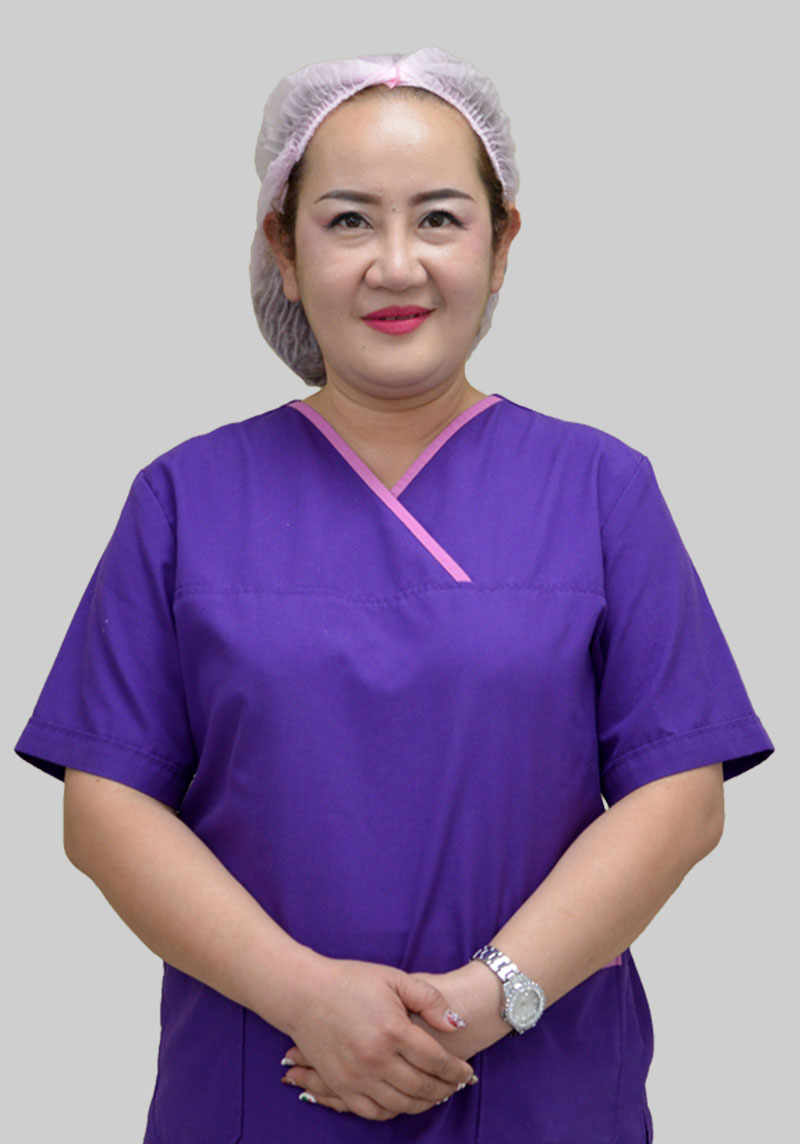 Bachelor degree of Science (Nursing and Midurifery) , Mahidol University, 1989
1989-1991: – R. Nurse at Ramathibodi Hospital 1991. Started to work at STOUGH CLINIC till present.
Professional record / Seminar
2017
31 March-2 April 2017, Attended the 5th AAHRS Annual Scientific Meeting & Live Surgery Workshop at Anantara Riverside Hotel and Siriraj Hospital, Bangkok, Thailand
2015
28-29 Marth 2015, Attended 4th AAHRS Annual Scientific Meeting and Live Surgery Workshop,Sofitel Sukumvit Hotel & Chulalongkorn Medical School,Bangkok, Thailand
2013
26 Jan 2013, Attended International Congress of Aesthetic Dermatology in Bangkok, Thailand Performed Live surgery demonstration workshop Hair Transplantation Technique at King Chulalongkorn Memorial Hospital
23-26th October 2013, Attended ISHRS 2013 Annual Scientific Meeting, San Francisco, U.S.A.
2012
11-13th May 2012, Attended AAHRS 2nd Annual Scientific Meeting, COEX Convention Center, Seoul, Korea
2011
24-26th June 2011, Attended AAHRS 1st Annual Scientific Meeting, Pratuwan Princess Hotel, Bangkok, Thailand
2010
25th -27th June 2010, ISHRS Regional Live Surgery Workshop, Montien Riverside Hotel, Bangkok, Thailand
Publications :
Co-author, "Slivering and Graft Cutting", Hair Restoration Surgery in Asians textbook, Pathomvanich, Imagawa Eds., 2010 Springer.
2009
4th – 6th September 2009, Singapore, Instructor, Hands-on Cadaver Workshop in Hair Transplantation
26th -29th February, Instructor for Live Surgery Workshop in Hair Transplantation: "Hair Transplantation in a 50-year old male Class VI" at
Piyaveth Hospital, International Society of Dermatologic Surgery, Millenium Hilton, Thailand
2008
4-5th May 2008, Attended ISHRS Regional Workshop: Asian Hair Surgery Workshop, Somerset Palace Hotel , Jongno‐Gu, Seoul, Korea
2007
International Society of Hair Restoration Asian Hair Surgery Regional Workshop in Yokohama, Japan March 30 – April 1, 2007: Assisted Dr. Pathomvanich in live hair transplantation surgery
2001
Attended ,conducted & demonstrated Hair Transplantation Technique during World Congress of Hair Restoration Surgery (Live Surgery), in Florida, U.S.A.
She had also attended and participated in many hair seminars at the following institution Siriraj, Chulalongkorn, Ramathibodi Hospital conducted by Dr. Damkerng Pathomvanich M.D.,FACS
1999
Attended International Society of Hair Restoration Surgery annual meeting San-Francisco, U.S.A.
1996
Attended12nd Annual Scientific Meeting, International Society of Hair Restoration Surgery October 11st-15th, 2004, Vancouver, BC, Canada Performed live surgery demonstration workshop at Dr. Wong's clinic (Sat October 14th, 2004) "Donor Disecting with Open Method: You see what you cut and you cut what you see" (Dr. Pathomvanich personal technique)
Hair Surgery in Myanmar
August 11-15 Annual Scientific Meeting of ISHRS, Vancouver, Canada
September 18th 20th HAIR FORUM 2004 The Grand Plaza Park Royal Hotel, Kuala Lumpur, Malaysia.
1996
Attended Annual Meeting of American Academy of Cosmetic Surgery & Hair Transplantation in Palm spring, U.S.A.
Was invited by Professor Dr. W. King from department of Plastic and Reconstructive Surgery, Hong Kong University to demonstrate
Hair Transplant Technique in burn patients with Dr. Damkerng Pathomvanich.
1994
Attended International Society of Laser Surgery at Bangkok, Thailand.
1993
Training in Hair Transplantation at STOUGH MEDICAL ASSOCIATE by Dr. Dow B. Stough, AR, U.S.A.
Attended World Congress of Liposuction & Cosmetic Surgery, Dallas, USA.
Attended Hair Transplantation Annual meeting in Dallas, U.S.A.